 Introduction
Ohio Land and Cattle is located in East Central Ohio, near Cadiz. It consists of 8000 acres.
It is an operating ranch with some 1000 head, thriving year round on the grass. Cattle are registered Black Angus.
God Made a Farmer
Herd Sires
Herd Sires are selected from the very top of large peer groups of 200-500 bulls.
They are selected for a combination of calving ease, masculinity, muscling, structure, fleshing ability, hair coat, growth, and disposition.
Genetics
The largest, outside genetic influences are from Pinebank (New Zealand), Pharo Cattle Company, and Wye. The genetic program is very simple. We buy and develop the very best bulls, capable of reproducing cows that thrive in East Central Ohio, problem free, on ranch resources and year round grazing. Bulls are the very top, selected from large peer groups, 200-500 in a group. Cows are raised on the ranch and have a single task, wean a calf, on time, problem free. Every cow that is late, open, aggressive, or needed assistance for her or her calf, is removed from the herd. The type cow which thrives at this task, is moderate in size, 1100-1200 pounds, winters well, easy fleshing, moderate in milk, and moderate in growth.
Seventy percent of the cull pen is made up of the taller, higher milking, higher growth, portion of the herd, year after year. The cow herd is viewed as a genetic pool, which is why emphasis is placed on the very top bulls. Cow emphasis is on function, a cow with top genetics, which fails to calve on time, or has any other problem, is culled, regardless of her genetics.
Calving
Everything starts with a live calf. Bull calves average 65 to 72 pounds, heifers average 62 to 67 pounds. Less than 2 percent are born outside that range.
Roughly 1% require assistance at birth, usually heifers. Heifers are calved with the cows with no additional labor or development. Every dam requiring assistance is removed from the herd.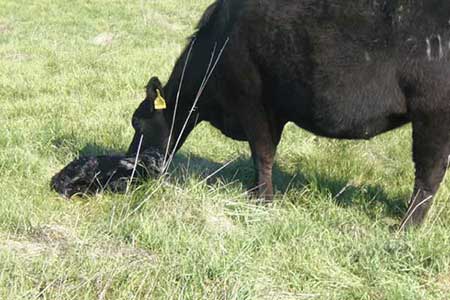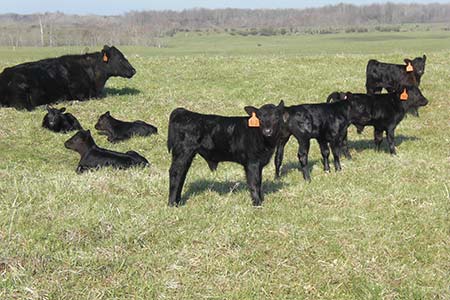 Bulls For Sale $2500 Each
OLC Sale 2017
Bull Tag #
Name
Tattoo
Reg #
Lot #
Notes
1723U
PCC SSCC SUNDOWN 1723U
1723U
18756027
1
OLDER BULL
141
PCC FSR FLAME 2041X
2041X
16742835
2
OLDER BULL
338
PCC OLC PHANTOM 2180C
2230B
18756027
6
OLDER BULL
9772
PCC OLC CHARLIE 21378A
2138A
17531510
4
OLDER BULL
186
OLC HAMMER TIME 2192D
2192D
18519384
186
200
OLC SIGMA 2174D
2174D
18825537
35
302
OLC RAPID FIRE 302
302
18820402
32
304
OLC WALK THIS WAY 2143D
2143D
18520571
20
312
OLC MAKE MY DAY 228D
228D
18525464
22
330
OLC TOMBSTONE 2196D
2196D
18519393
12
349
OLC BRAVE HEART 2173D
2173D
18519392
11
363
OLC ROCKET MAN 2125D
2125D
18520556
14
380
OLC NIGHTHAWK 2138D
2138D
18520568
19
392
OLC UP TOWN FUNK 2123D
2123D
18536076
30
434
OLC BOLD RULER 2180D
2180D
18525489
26
469
OLC WAR BONNET 2126D
2126D
18520555
13
565
OLC ROCKY MOUNTAIN HIGH 565
2235D
18847141
38
4472
OLC DAN THE MAN 2211D
2211D
18525483
25
7723
OLC BOOTLEGGER 2154D
2154D
18519367
Management Low Input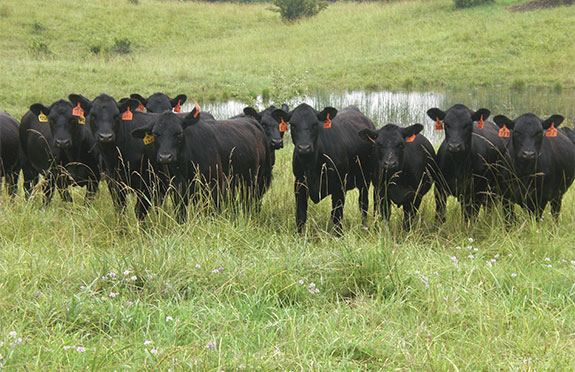 Cattle are required to thrive on the ranch resources, with no other input, other than minerals. Cattle graze some 30 pastures, year round. Cattle are bred for May calving, in a 60 day window. May calving enables calves to be born at a mild time of the year, on fresh grass. May calving matches the highest forage requirements, i.e., the third trimester and a cow with a young calf, with the highest forage availability.
Cow Costs
Heifers are bred at 13-15 months of age, after wintering with the cow herd, on grass, with no other input, except minerals. Bulls are wintered and developed on forage, alone.
Assume $15 per acre land rental/ownership. Further assume 10 acres per cow, which includes water, ownership and taxes to the middle of the roads, plus forest.
Mineral program is at $16 per head annually.
No worming, soil biology matters. Worming decreases grass production 10-20%.
17 herd bulls make money through sales and leasing, therefore we attach no breeding costs.
Equipment costs are $150k, amortized over 7 years, tractors and trucks last longer, Rangers last shorter, $35 per head per year.
Hay costs are $4 per year, no hay the last 6 years, Interstate I-70 is near the line where that is possible, further north, is tougher.
Fence maintenance is $1000 per year.
Labor is $48k per year.
Fuel/gas is $300 per month
Two working facilities are 110k, amortized over 30 years, $1 per head per year.
Cow costs are $293 per year.
Note, there are no depreciation costs, as the turn over on cows, below 6 years of age is kept high, producing a young, elite, appreciating, herd. Cows over 6 depreciate back to the commodity market.
Bulls: Profit, Not a Cost
Bulls are a profit center, not a cost:
East of the Mississippi River, the average herd is 18 cows.
It is difficult to justify a $5000 dollar bull, or is it?
Imagine a farmer / rancher wants the best stock.
A cow will influence the herd by 8-10 cows on average, in a life time.
A bull will potentially influence hundreds, over a life time.
The genetic investment should be in bulls.
Bulls, cost money, they consume forage, and require separation during the non breeding season.
How might these costs be mitigated?
We produce several hundred bulls per year, and cull down to the top 25%, keeping the best of the best.
In turn, we choose the top 5, which are available for a swap in 2 years, for a comparable, top bull, at no charge.
We calve in May/June, most calve earlier, many calve in fall. We lease bulls, $750 per month for a 2 month minimum. A benefit of leasing is eliminating the need for separation outside of the breeding season, and no forage resources are used outside of the breeding season. That forage can otherwise be used for increased stocking.
Turn over the bull at 4-6 years old while he still has value, for sale, or exchange with a friend with similar thinking and genetics. It is possible to buy one good bull, and thru swapping and leasing, not buy another bull for 10+ years.
It is realistic to buy a bull for $5000, lease him 4 times for a total of $6,000, sell him at 6 years old for $2500, or exchange him.
Bulls can make money, and not cost money.
Business Model
Ohio Land and Cattle is first, a business. As a business, it has resources in land, forage, cattle, fence, and equipment. Its responsibility is to produce the greatest revenue, relative to costs. This is accomplished with a profit per acre business model. This model minimizes equipment, labor, and inputs (costs), and maximizes protein production per acre (income).
Production is increased with grass management, the right cow- size and type, genetics, and management. These combined principles produce the highest possible stocking rate, and highest production per acre. Stocking rate effects profits more then any other factor.
This ranch uses Management Intensive Grazing, i.e., the top half of forage is grazed, and cattle are rotated to new pasture, permitting sufficient rest for the grazed pasture. MOB grazing will play a role in the future.
Production is increased with the moderate type cow and their genetics. Each year, the following observations are confirmed: the physically shorter/thicker half of the herd, which includes heifers and second calvers, produce a calf which weans a higher percentage of the dam's body weight, and sells at a higher price per pound. Because the cow is shorter/thicker, her forage requirements are less, which permits an increase in stocking rate. Shorter, thicker cattle have a higher relative intake, I.E. they eat more for their size and flesh easier, which increases fertility. A younger female, who will gain and produce a calf, is economically superior, to a steer who will gain only, or a cow who will calve only. Consequently, the ranch has more, slightly, smaller calves (30 pounds less), which sell at a higher price per pound, and more total pounds are produced with the additional calves and stocking per acre.
The genetics are moderate in growth, milk, size, low in birth weight for calving ease, and low in maintenance requirements (high $EN). These characteristics produce cattle capable of finishing/marbling on grass, every bit as well as cattle finishing on grain in the feedlot. This makes the cattle attractive in the Grass Finished market place, at a premium price, and they finish in the commodity market in fewer days, with less feed. Typical transactions are roughly double the commodity market.
Management increases stocking rates with strict culling; every late, open, calving problem, physical problem, harder fleshing, hard wintering, and disposition problem, is culled every year. May calving, reduces forage requirements in winter, and matches the peak forage requirements with the peak forage availability.
Interestingly, the production differentiation between the physically taller group, and the physically shorter group is narrowing each year, as 70% of the cull pen is from the physically taller group. The physically taller group is the greatest source of opens and lates and winter harder. The cattle are becoming more uniform, and are defining the optimal size and type for this ranch, and low input management.
The characteristics of most cattle in the culling pen are what should be avoided. The characteristics of the cattle remaining in production are reproduced, using bulls consistent with the cow type remaining in production.
Ranch management is not defining the desired type and genetics, the cattle are defining the ideal type and genetics, under this environment and management.
Revenue is increased in several other ways, selling bulls, females, grass finished beef, hunting and fishing operations, etc.
Costs are limited. With the need for hay limited to a winter storm which produces more than 2 feet of snow, there is little need for most equipment and labor. The stockpile of hay kept in inventory is purchased, it is usually 2 year old hay which reduces its cost. A benefit of buying hay, is the ranch is importing those nutrients onto the ranch.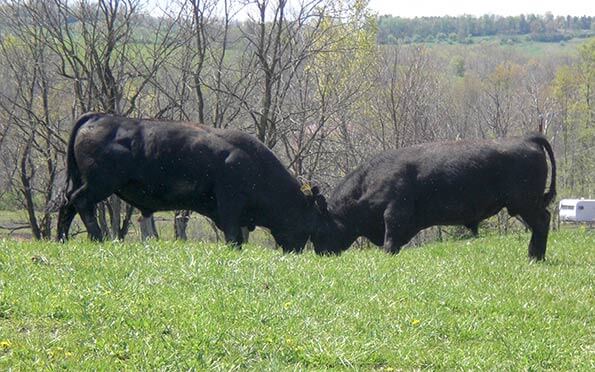 Hunting
Grass Finished Beef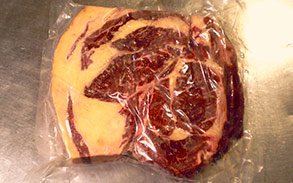 Grass finished beef is tasty and healthy. Cattle are raised on pastures with a high percentage of legumes, they are harvested when they are well marbled. No chemicals, hormones, or antibiotics are used. Cattle are as well marbled as corn finished beef, and have much more flavor.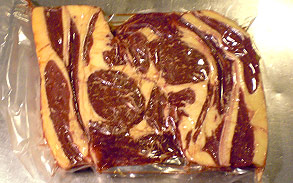 Beef is sold by the animal, half, or quarter.
The following link discusses the health benefits of grass fed beef, TallGrassBeef.com
For articles, cookbooks and books, on Grass finished beef and farming, see Eatwild.com
Buy a meat tenderizer, we use it for every cut: Tenderizer
Power Steer: The life of a feed lot steer - Michael Pollan
Buying Bulk Beef
When your animal is processed, a certain amount of bone gristle and fat are removed when the carcass is cut and wrapped. Depending on your choice of cuts and your choice of bone-in or bone-out steaks and roast, the take home weight may vary by as much as 79 lbs on a whole animal.
Because of this variation we sell our animals on the pre-cut weight for hanging carcass weights, which is about 60% of the live weight of the animal. Our average carcass will weigh approximately 675 lbs.
Average Live weight 1125 lbs. x 60% hanging carcass weight (HCW)
Whole animal averages 675 lbs. x $4.50/lb. = $3,037.50
APPROXIMATE:
WHOLE BEEF - $4.50/lb. HCW
50 steaks (1.25" thick)
28 roasts (2.4 lbs./ea.)
130 lbs. ground beef (1 lb./pack)
---
Any of the cuts below can be ground
to increase the amount of ground beef
14 cube steak (1 lb./pack)
2 brisket (weight varies)
2 flank steak (weight varies)
2 skirt steak (weight varies)
---
4 short ribs (2 lbs.)
8 soup bones (2 lbs.)
HALF BEEF - $4.75/lb. HCW
25 steaks (1.25" thick)
14 roasts (2-4lbs./ea.)
65 lbs. ground beef (1 lb./pack)
---
Any of the cuts below can be ground
to increase the amount of ground beef
7 cube steak (1 lb./pack)
1 brisket (weight varies)
1 flank steak (weight varies)
1 skirt steak (weight varies)
---
2 short ribs (2 lbs.)
6 soup bones (2 lbs.)
---
Please wait 20 seconds for the photos to load
Books/Articles
Below are books and articles highly recommended
• Knowledge Rich Ranching / Allan Nation
• Grassfed to Finish / Allan Nation
• Quality Pasture /Allan Nation
• Land, Livestock, and Life /Allan Nation
• Get the Hay Out/Jim Gerrish
The books above can be purchased from Stockman Grass Farmer
• How Not to Go Broke Ranching / Walt Davis waltdavisranch.com
• Is the Angus Breed on the Right Track?Link to Article
• Allan Savory on the world becoming a desert, and cattle as the solution Link to video
• Johann Zietsman: Video on stocking rate as the largest factor in profitability, high density grazing, etc... Link to video
To buy his book, "required reading", see: Link to book
• Kit Pharo, Low input Business model/Management Link to video
• Body Condition and Its Importance Link to Article
Contact
James Coffelt
330-328-4470
Ohio Land and Cattle
77500 Jamison Rd
,
Cadiz
,
Ohio
43907
Directions:
Travel to Cadiz Ohio, Drive 5.1 miles southeast on St Rt. 250, Turn right on Jamison Rd, Drive 9/10ths of a mile, Turn right into the drive
---
Request Information